SS 2022
Abstract
The MA Project "The Beauty of Architectural Surfaces. An introduction to historical and technical aspects" is aiming at providing students with basic knowledge of the different manufacturing processes especially for the execution of architectural surfaces from Ancient times to Modern Eras.
The different styles in plastering will be taught and their importance with respect to political and iconographic aspects will be stressed. Degradation patterns and restoration techniques especially for architectural surfaces will be illustrated.
Only the understanding of their manufacturing processes beyond history and appearance will provide the freedom of revisiting surfaces and reinventing their role in a novel idea of reuse and colours.
Deterioration patterns due to discoloration and deposit will be highlighted focusing on differences between coloration, staining and patina stressing the idea of natural Patina as a value as well as the concept of Patination in restoration.
Classes are designed in a dual form of frontal lectures and review meetings spinning around an applicative case study: the Acropolis of Lipari in the World Heritage Site of Aeolian Islands. According to expertise, the lecturers involved will introduce the different manufacturing techniques of surfaces starting from Roman rendering to modern plaster and stucco work, without overlooking floorings.
Students will be asked to reproduce different types of surfaces in their ornamental compositions and aesthetic features by pencil drawing (design from models).
Further, upon successful completion of this module, students will be able to evaluate the state of conservation of modern and historical architectural surfaces, along with their specific deterioration pathologies. This goes with a basic understanding of interventions needed to preserve surfaces while envisioning choices for novel solutions based on awareness.
For this semester, "Confinement" has been chosen as an overall thematic topic to deal with. Then, the subject of heritage buildings charged with iconic, social or political meaning will be deeply debated. The example of the Acropolis of Lipari, Aeolian Islands (Italy) used by the fascist as a land of confinement to political dissidents (i.e. Curzio Malaparte, Fausto Nitti, Emilio Lussu, Carlo and Nello Rosselli, Gioacchino Dolci and afterwards Edda Ciano ect..) will be used as an outstanding illustrative case study.

The reworking and manipulation of historical surfaces will be illustrated concentrating on the 20th and 21st century conservation and restoration works its post-WWII redevelopment and modern acquisition by the Archeological Museum of Lipari.

The issue of the interpretation of historic findings in recent times as well as that of forgeries in polychromy and materials in finishing will be brought to attention focusing on the 20th century restorations of the interior and exterior of the building. In this respect, a particular deal of attention will be paid to the artistic features and architectural of ceilings and floorings.

Further to this, a study of possible conservation-restoration strategies especially for the parts of the Acropolis that are open towards the historic garden – thus, facing the sea, yet, historically, separating prisoners from this, will be conducted.

Concluding, the challenge of the use of one pavilion for touristic purposes as an extension of the museum exhibition, along with a deconsecrated church, which are progressing in pairs, will be faced, along with a possible repurposing strategy of the buildings regarded in a much brother concept of conservation and restoration of detested heritage and abandon heritage.
A particular deal of attention will be paid - with respect to design - to a "repurposing idea" for (i.) the courtyard of the former prison, (ii.) the actual seminar room and library, (iii.) the warehouse of the archeological museum, (iv.) the small exhibition rooms, (v.) the hidden walks of the counter façade, along with its garden facing the sea and staging archeological findings. Further, individual solutions for the architectural surfaces will be researched as well as a global solution for the deconsecrated church facing the former prison.
Lecturer
Thomas Danzl, Roberta Fonti
(Contributors)
Nadia Thalguter
Type/ Credits
Project + Excursion / 8,52 SWS, 15 ECTS
Semester
Summer semester 2022
Language
English (learning materials in German/English, individual review meetings in English)
Dates
Kick off 27.04.2022, 13:15 - 18:45
Every Wednesday 13:15 - 18:45
Excursion to Aolean Islands
Final Presentation 03.08.2022, 13:15 - 18:45
Links
TUMonline
Moodle
The case of the "Palazzo Ristorante" by Arch. Ettore Rossi at E.U.R. District in Rome
The case of the UNESCO-World Heritage Site of Cathedral of Saint George the Martyr in Ferrara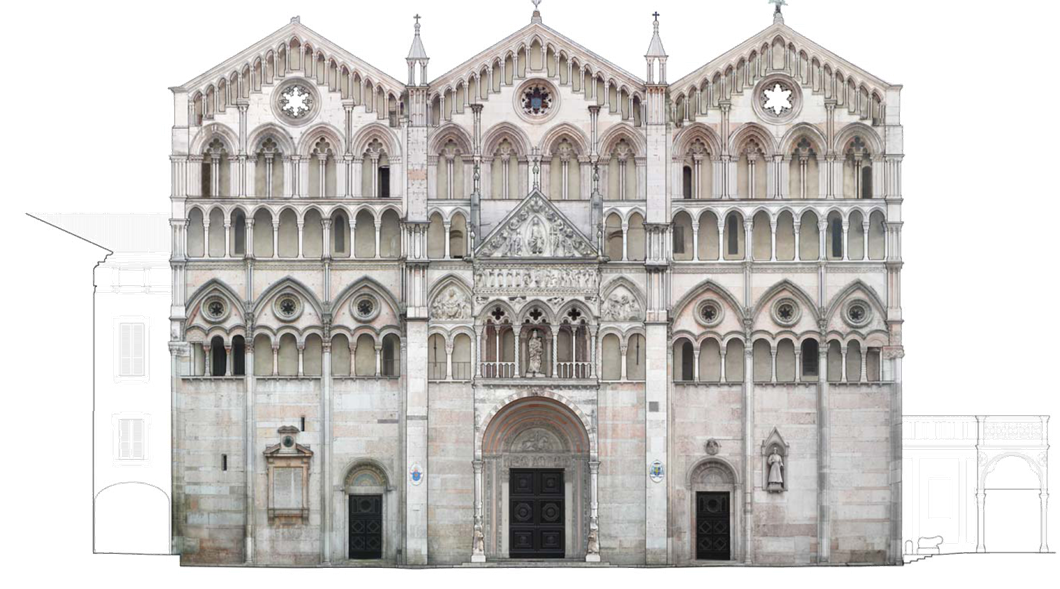 "Its rosy marble façade, which has elements of both the Romanesque and Gothic styles, is unusual, for although the plan of the building is that of a typical basilican church with a high central nave flanked by lower side aisles, the façade doesn't acknowledge this."
Charles M.Rosenberg, 1999
Case study: EUR District (E42), Palazzo dei Congressi e dei Ricevimenti (Rome)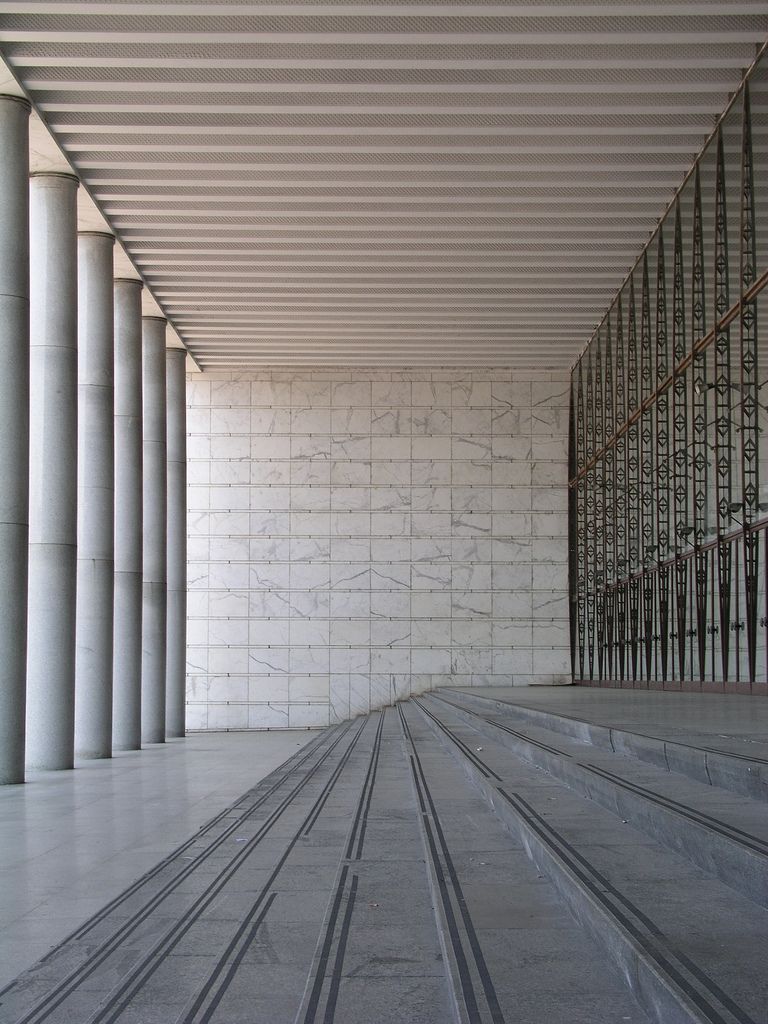 "[...] the EUR, where you can still look at the cemetery of our defeats, where everyone lost as he could. After winning a national tender, if there were no columns, none of our projects would be accepted. And they were telling us: << if you don't design by using columns, the building will not be constructed >>. [...] I struggled so hard for Palazzo dei Ricevimenti. I had to carry out five projects, always trying to save what I could save. And I ended up accepting a row of columns at the main façade, on the one hand, without capitals, on the other hand, with an enormous space behind them. These are not decorative columns, because they carry an enormous weight. [...] I tried to do all that I could to save what could be saved. However, it is human to surrender at some point, each time, with an assonance or a tinge. Of course, we suffered from a political influence, and we wanted but we did not know how to overcome something that was repugnant inside us."
A. Libera, La mia esperienza di architetto in La Casa, 6 june, 1959, p.171-175
Case study: The Franciscan Monastery of Zoccolanti in Torre del Greco, Italy